San Francisco earthquake
Lloyd's and the San Francisco earthquake, 1906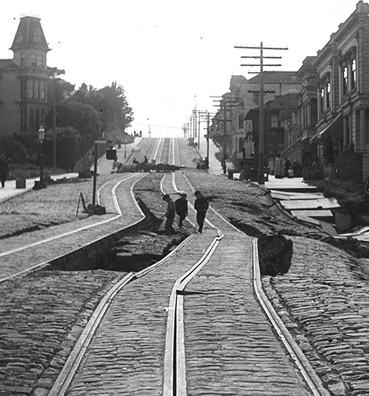 At 5.13 am on 18 April 1906, San Francisco - the seventh largest city in the US - shook, crumbled and burned to the ground.
A massive earthquake, measuring 8.25 on the Richter scale, brought the city to its knees. It sparked uncontrollable fires that raged for three days, taking several thousand lives and leaving half of the population homeless.
The 1906 earthquake is important in the history of Lloyd's because it had a profound effect on the insurance industry of today. The aftermath of the disaster laid the foundations for many of today's modern risk modelling and building practices.
The San Francisco quake was also a key point in the life of the eminent Lloyd's underwriter, Cuthbert Heath, whose actions during the rebuilding of the city solidified Lloyd's position in the US market and helped pave the way for Lloyd's as we know it today.
Lloyd's role
Through its prominent underwriter, Cuthbert Heath, Lloyd's played an important part in the San Francisco earthquake of 1906. Not only that, the aftermath of the quake had a dramatic and lasting effect on Lloyd's and the insurance industry as a whole.
During this era, governments were not expected to supply relief funds, so the burden of losses fell on the insurance industry.
As one of Lloyd's leading earthquake underwriters at the time, Heath faced an enormous bill, but he honoured it and famously instructed his San Franciscan agent to "pay all of our policyholders in full, irrespective of the terms of their policies".
The earthquake ended up costing Lloyd's over $50m - a staggering sum in those days and equivalent to more than $1bn in today's dollars.
How the San Francisco earthquake changed Lloyd's and the insurance industry
Heath's attitude over the San Francisco claims was rewarded, to the benefit of the London insurance market. His actions had highlighted Lloyd's excellent reputation for paying valid claims - a reputation that still stands today - and business boomed.
Until the 1906 earthquake, the placement of insurance risks overseas was viewed with some wariness. Now, Heath had succeeded in cementing Lloyd's position in the US market and other markets would be sure to follow.
The losses incurred challenged existing perceptions about risk and its management, but it also saw the industry embrace advances in these fields as a result. There are now sophisticated building and risk modeling practices in place that help protect against the devastating effects of natural disasters.
In most cases, earthquake risk is still excluded from standard homeowners or business insurance policies in the US. However, fire resulting from an earthquake has been included in the majority of policies since 1906.
Just as there are lessons to be learnt from the earthquake, there's also inspiration to be gained from the way that cities can be reborn with the help and financial backing of the insurance industry.