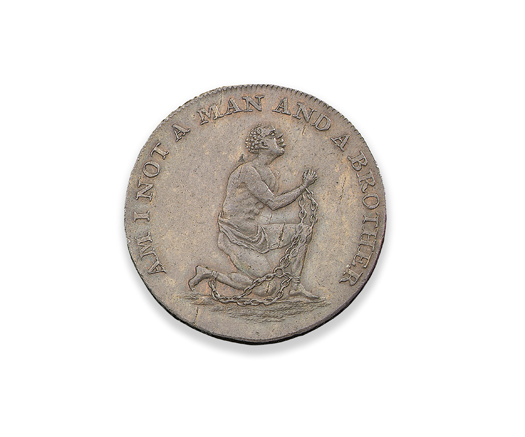 From 1640 to the early 19th century, an estimated 3.1 million enslaved African people were transported by Britain's vast shipping industry – and Lloyd's was the global centre for insuring that industry. We are deeply sorry for the Lloyd's market's participation in the transatlantic slave trade. It is part of our shared history that caused enormous suffering and continues to have a negative impact on Black and Minority Ethnic communities today.
Image: Copper halfpenny produced by the Abolitionist movement and circulated circa 1790-97, bearing the well-known abolitionist image of the kneeling slave with accompanying description.
A journey of reflection
Prompted by the anti-racist activism of Black people and allies following the murder of George Floyd, Lloyd's is on a journey of research and reflection as we acknowledge our historical connections to slavery, as well as the lack of ethnic representation – particularly at senior levels – that still exists within the Lloyd's market.
While slavery's connections to Lloyd's history have been tacitly acknowledged before, they have never been fully interrogated or accounted for, until now.
Our market – the world's largest insurance and reinsurance market – was started in the 17th century, in Edward Lloyd's coffee shop, near the banks of the River Thames.
Lloyd's customers were ship owners and businesspeople, many of whom amassed their fortunes in the same way that Britain enriched itself at the time – through the extractive economics of empire.
That empire was powered by Britain's vast shipping industry. And Lloyd's was the global centre for insuring shipping. During this appalling and shameful period of history, enslaved people were transported as cargo, and insured as cargo in the Lloyd's market.
Much of Lloyd's business at the time involved commodities of empire – foodstuffs such as wheat, rice, sugar, tea and coffee, industrial crops such as tobacco, cotton or rubber, and ores such as copper and gold – which were also likely to have been produced by enslaved people. There is also evidence that some Lloyd's members were enslavers or had interests in properties and estates that held enslaved people.
A full apology
We are deeply sorry for the Lloyd's market's participation in the transatlantic slave trade. It is part of our shared history that caused enormous suffering and continues to have a negative impact on Black and Minority Ethnic communities today.
We are grateful for the work of academics at the University of London's Centre for the Study of the Legacies of British Slavery (LBS) who continue to examine and document the extent to which key figures in Lloyd's history were involved in the slave trade. When the Lloyd's premises at the Royal Exchange in Cornhill were destroyed in a fire in 1838, so too were many of our historical underwriting records. This makes the work of LBS especially important as we seek to establish a true historical record.
Together with the National Gallery, LBS is conducting collaborative research efforts to investigate the role of one of our most prominent chairmen, John Julius Angerstein, in the slave trade; evidence suggests he was a trustee of estates in the Caribbean that held enslaved people.
Lloyd's has also employed an archivist to examine our collection of more than 3,000 artefacts and objects – paintings, furniture, swords, silverware and more –- in order to identify any connections with slavery.
Lloyd's Corporate Archive is freely accessible to the public. The catalogue of our Corporate Archive is available at the London Metropolitan Archives (lma.gov.uk). Most of the collection dates from 1771, with some deeds dating back to 1585. Please note that the Captains' Registers are held at London Metropolitan Archives and the rest of the archive is available at the Guildhall Library.
Our commitments
As we continue to examine Lloyd's connections to slavery, we will make any findings public, and will ensure that an honest account of our role in the slave trade becomes a part of the story we tell about Lloyd's.
We also recognise that the legacy of slavery continues, evident in the racial inequality that persists to this day.
At Lloyd's, we want to operate a market in which everyone can fully participate and thrive. One of the ways we intend to do this is through continued investment in programmes to attract, retain and develop Black and Minority Ethnic talent. They include our Accelerate programme, which nurtures future leaders within the Corporation and market.
We are redoubling our education and evidence-based research efforts in order to improve our understanding and also measure progress over time. Activities include the publication of the Corporation's ethnicity pay gap and a commitment to drive up the collection of ethnicity related data in the Lloyd's market. Educational reports include the Ethnic Diversity in the Workplace Report, which seeks to understand the experiences of Black and Minority Ethnic professionals in insurance.
We have also set an ambition for the Corporation and market to ensure a third of all new hires come from ethnic minority backgrounds. Doing this will increase ethnically diverse representation in the market from 8% to 10% by 2025, and from 22% to 25% for the Corporation.
We are scrutinising our business practices, suppliers, systems and controls to ensure we do not facilitate modern slavery and human trafficking now and in the future.
We are making financial contributions to charities and organisations promoting racial justice, equity, inclusion and opportunity for Black and Minority Ethnic people in the UK.
As part of our culture strategy, and led by our culture advisory group, we will continue to develop a long-term plan to embed racial equality, whilst recognising that this work and these commitments are long overdue.
An opportunity for progress
As the world's specialist insurance market for more than 330 years, we often say that Lloyd's has helped to create a braver world. But our market's historic participation in the transatlantic slave trade, and our early failings to fully acknowledge this history, were anything but brave.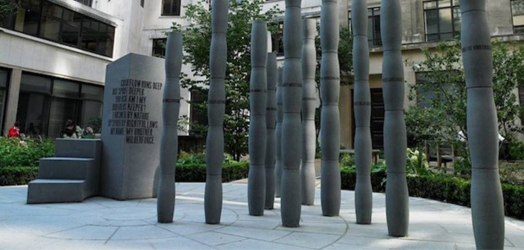 We approach this work with profound humility, a spirit of openness and real enthusiasm for change. We will continue to listen to and be guided by our Black and Minority Ethnic colleagues, we will be transparent and we will be accountable for the progress we make.
We are on a journey to understand the full truth of our past; to reimagine a more just and equitable future for Lloyd's, and for the world it has insured for centuries.
Image: Gilt of Cain, Fen Court, City of London, commemorating the abolition of slavery. Located where John Newton, a former slave-ship captain who later turned abolitionist and wrote Amazing Grace, served as reverend in a now-vanished church. Poem written by Lemn Sissay. Sculptor: Michael Vissochi.