The Lloyd's Lab is the heart of innovation for Insurance. An award winning space dedicated to accelerating and fostering new products and solutions fit for the needs of our customers around the world. As we face the challenges of the AI age, the Lloyd's Lab brings together cutting edge InsurTechs, start-ups and ideas which support our market's shared goal of sharing risk to create a braver world.
Our main programme is an InsurTech accelerator programme which aims to help innovative ideas gain traction and success in our market. Located in the heart of the world's specialist insurance market, the Lloyd's Lab gives InsurTechs access to a coworking space in the iconic building and the chance to develop their ideas alongside their target audience. Find out more about this and our other initiatives by following the links below.
Since we opened, we've invited over 80 teams to take part in the Lloyd's Lab. And through those teams, the Lloyd's Lab has:
Facilitated the creation of dozens of partnerships and new products
Enabled the delivery of COVID-19 vaccines to low and middle-income countries
Helped us measure the carbon footprint of the customers we insure
Demonstrated how insurance products can avert disasters before they happen 
Connected the market to create products which pay out when critical clouds fail 
Our scope is more than just InsurTech though – check out the links below to find out how to get involved.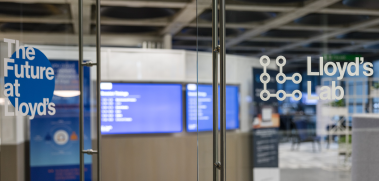 Cohort 9
Applications are now open for Cohort 9 – apply before 23:59 BST on 10 July.
How to get involved: are you a Lloyd's insurer or an InsurTech?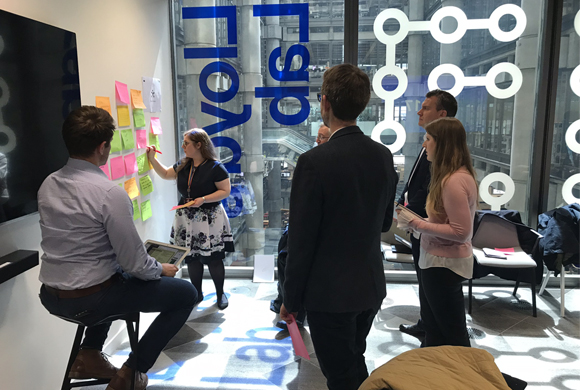 Lloyd's insurer or broker
If you're from the Lloyd's market, follow this link to find out more about Lloyd's Lab, our innovation initiatives, and how to get involved
Find out more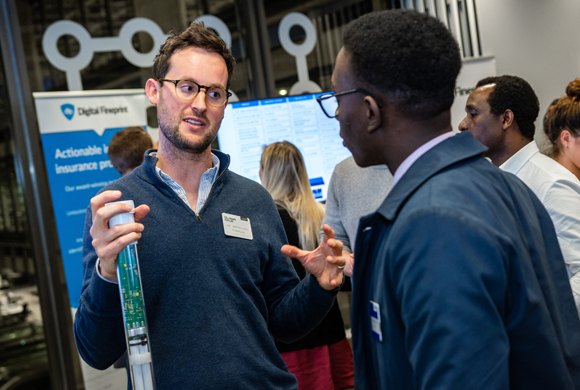 InsurTech
If you're an InsurTech, Fintech, or an entrepreneur in the making, follow this link to learn more about the Lloyd's Lab programme and our other initiatives which may help you break into the market
Find out more about our programmes
Not sure where to start? Here's some handy definitions:
| | |
| --- | --- |
| DRF | The Disaster Risk Facility at Lloyd's was formed to look at closing insurance gaps around the world through development and provision of contingent risk financing solutions to mitigate the human and financial impacts of natural hazard and other catastrophic risks. |
| Insights Hub | The Insights Hub is our next generation data analysis platform for the Lloyd's market. This site will save you time and money in producing common Lloyd's market analysis and provide powerful data visualisations and benchmarks never shared before to drive performance. It is free for Lloyd's syndicates and teams who are in the Lloyd's Lab programme. |
| Lloyd's Lab | The home of innovation and InsurTech at Lloyd's. Best known for the 10-week InsurTech accelerator programme, but also now the home of all things innovation at Lloyd's. |
| Lloyd's Product Launchpad | The Launchpad is the place to bring new insurance product ideas at Lloyd's. It is a group of 27 Lloyd's insurers who are keen to see new, innovative insurance product ideas, to help develop them, and ultimately to launch them in the market. The Launchpad and the Lloyd's Lab work hand in glove. |
| L Marks | Lloyd's Lab works together with L Marks in running our main InsurTech accelerator programme; from scouting through to day-to-day facilitation. L Marks is transforming world-leading organisations through integrating pioneering technologies and inspiring an entrepreneurial ethos.  Their award-winning collaboration programmes establish innovation as a key characteristic of their partners' businesses, driving a dynamic culture and, ultimately, fuelling growth. |
| Managing agents | For those unfamiliar with the Lloyd's market, you might wonder what we mean when we talk about managing agents. To the lay person, consider these as being the insurance companies who operate in the Lloyd's market. |
| OIF | Operations Innovation Facility. A group of occasionally like-minded Lloyd's managing agent representatives seeking to create value for their clients by working together to solve common operational problems. |
| PIF | The Product Innovation Facility is the old name for the Lloyd's Product Launchpad. |
| Seven Lloyd's syndicates | AXA XL, Hiscox, Beazley, RenaissanceRe, Chaucer, MS Amlin, Nephila – have joined forces to develop new solutions to help developing economies tackle underinsurance and improve their resilience against the economic impact of natural catastrophes. |