Great Exhibition of Lyon
Politician Edouard Herriot, the Mayor of Lyon and later French Prime Minister, insured the Great Exhibition of Lyon against a budget deficit. Herriot paid 250,000FF for a guarantee of 3mFF.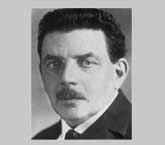 Expecting a legal contract, he was somewhat surprised that the whole thing was drawn up in a single sentence with a lead pencil. He was told to put the slip in his pocket and sleep well.
The Exhibition was a disaster: war and strikes intervened, and a storm broke, flooding the Rhone and destroying bridges to the grounds. Anxiously, Herriot wrote to eminent underwriter Cuthbert Heath, who sent a loss adjuster.

The representative studied the accounts and then handed over a cheque – with, according to Herriot, 'the elegant flourish with which one offers flowers to a lady'. A few days later, Herriot discovered an exchange rate error in his favour. He cabled Heath about the 25,000FF discrepancy – and was told to give the money to a French war charity.

Herriot's awe-stricken final comment on the matter? 'Now I know what an English signature means.'