Lloyd's Charities Trust
Building resilient communities by supporting causes relevant to the market and our people.
Lloyd's Market Charity Awards are now open
How to apply: Applications are now open and remain so until 20 August 2021. Click the link to register your interest.
Our Story
The Lloyd's insurance market enables the sharing of risk in a world facing diverse challenges. For more than 60 years, Lloyd's Charities Trust has helped to build resilient and sustainable communities where it matters most.
As the Lloyd's market responds to emerging risks and the challenges that these pose to communities around the world, it becomes increasingly important that Lloyd's Charities Trust supports projects that aim to reduce the risk of devastation to the people who need it most. Through our charity partnerships, we work with organisations who help the most vulnerable groups with disaster risk reduction globally.
Our current partnership is with Habitat for Humanity Great Britain to help build disaster resilient communities.
Habitat for Humanity Great Britain
We launched our partnership in October 2019 to work together to build disaster resilient communities which support the most vulnerable; women, children, the elderly and those living with disabilities.
Flooding in Malawi
A key component of the new partnership is our project to support families in the Chikwawa district in Malawi. The area was badly affected by severe flooding and devastation caused by Cyclone Idai in March 2019. This project utilises the resources of the Lloyd's market to help Habitat for Humanity increase their knowledge of why certain communities choose to live in flood-prone lowland areas in the country.

The findings of the research enable a more effective response by Habitat for Humanity and other local partners to future devastating natural disasters, in this and other regions.

The project also gives more than 20,000 individuals access to community rescue hubs; giving local families access to training sessions and materials to 'disaster proof' their homes. They will also function as emergency shelters for 36 families, reducing vulnerability in the region. Collaboration with local communities and authorities and capacity building is key to the success of disaster preparation and this is the heart of this project.
Engaging the market
Beyond our project, there will be many ways that colleagues from the Lloyd's market can support our partnership and we would love to hear from you. These include:
Sharing knowledge and insight around climate and flood resilience trends with Habitat for Humanity and their global network of local NGOs.
Giving pro-bono support to help Habitat for Humanity calculate community level disaster risks and environmental risks such as mapping, data sources and risk reduction strategies.
Giving advice around catastrophe micro-insurance and climate-based index insurance.
Fundraise to support our partnership. You can take part in virtual events all year round from their online scavenger hunt, runs, cycles, swims and walks, Habitat for Humanity have a range of resources to help you get started.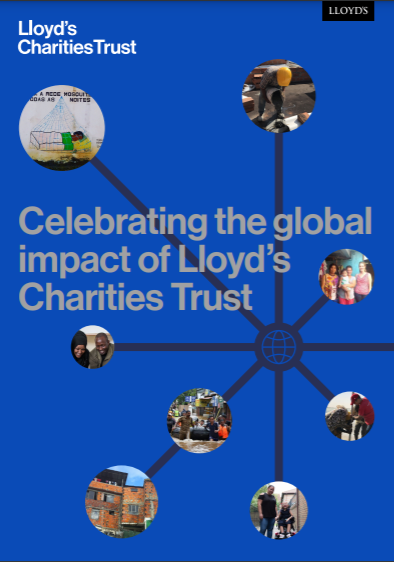 Celebrating the global impact of Lloyd's Charities Trust
Find out more about our previous partnerships from October 2016- October 2019 in our impact report looking back over the last three years.
We are not currently accepting funding or partner requests from charities. The next application window will be in 2022 and details provided here. 
Supporting our people
Lloyd's Charities Trust also supports causes close to the hearts of our people in the Lloyd's market in London. Recognising the voluntary and fundraising efforts of individuals from across the market, we reward their chosen charities with unrestricted grants to help maintain stability and resilience in a changing world through an annual campaign, the Lloyd's Market Charity Awards.
Over the last ten years, it has awarded over £1.4m to the nominated charities of over 360 individuals in the Lloyd's market.
In 2020, donations of up to £25,000 were awarded to 30 charities in direct response to the significant funding gap faced by charities during the Covid-19 crisis.
How to apply: Applications are now open and remain so until 20 August 2021. Click the link to register your interest.
The full list of 2020 winners and more information about the awards and eligibility can be found in the 'Useful Links' section at the bottom of this page.