Lloyd's Market Mentoring Programme
Do you have what it takes to be a mentor? Or are you looking for a mentor?
Mentors usually enjoy sharing their professional experiences with others; with technical expertise and vast experience in their profession, mentors are motivated in helping others succeed.
We are looking for mentors who have some or all of the following professional attributes:
Organisational experience
Technical expertise
Organisational influence
Knowledge of career options
Ability to develop and utilise networks for collective benefit
Curiosity about people
Great mentors may also have the following personal attributes:
Broad-minded and compassionate
Positive and enthusiastic attitude
Motivating and supportive
Excellent communication skills
Reliable and trustworthy with high levels of integrity
Committed to invest time to support personal development
If you feel you have what it takes to be a mentor, with the experience and skills to benefit others, please refer to the 'What do I need to do next?' section below.
A mentor can help you to learn and develop by providing you with someone with vast experience and skills from within the Lloyd's market community?
If you are keen to join the Mentoring Programme to learn, take responsibility for your own development and are open to new ideas, then we would like to hear from you.
When you apply we will be looking for the following attributes:
Ambitious for personal improvement and success
Committed and conscientious
Able to work collaboratively
Flexible and willing to take a risk to try something new
Able to accept challenge
Able to receive constructive feedback
If you would like to apply to have a mentor and become part of the Mentoring Programme please refer to the 'What do I need to do next?' section below.
We are looking for experienced and insightful individuals to become Mentors for highly motivated talented individuals from Lloyd's Corporation and Managing Agents globally.
The Lloyd's Market Mentoring Programme will establish mentoring relationships across the market, enabling the sharing of specialist knowledge and expertise as well as development opportunities for individuals.
Participants will be matched and supported to get the most out of the mentoring relationship.
Background
One of Lloyd's key aims is to expand talent initiatives in the Market - which encourages the Market to work together to retain, attract and develop the best talent from the widest possible talent pool.   We recognise that the development of trusted, supportive relationships is the key to success in the Lloyd's Market; the Mentoring Programme will give participants the opportunity to develop a wide network of relationships, enhance skills and build careers.
Your commitment
The Mentoring Programme will commence in May 2019 through to January 2020. Following initial training, participants will determine how they will work together to manage the time commitment required.
Key benefits for joining the Programme:
Share knowledge and learn from your colleagues
Develop new and productive relationships across the market
Understand your personal strengths and development opportunities
Build your confidence and profile
Inspire and motivate others to maximise their own development
Understand how relationship mastery can help you deliver benefits for the market
Firstly, ensure that you meet the following criteria:

You are permanently employed within either Lloyd's Corporation or a Managing Agent
You are no longer in a probation period
You are available for all the key dates listed below

Speak to your Line Manager or anyone whose support you will need to ensure you can deliver on all of your commitments if you are selected to join the Lloyd's Market Mentoring Programme.
Applications will open 5th April 2019. All you have to do is to complete the relevant application form and email to Talent.Development@lloyds.com by the deadline of 26th April 2019.
Key Dates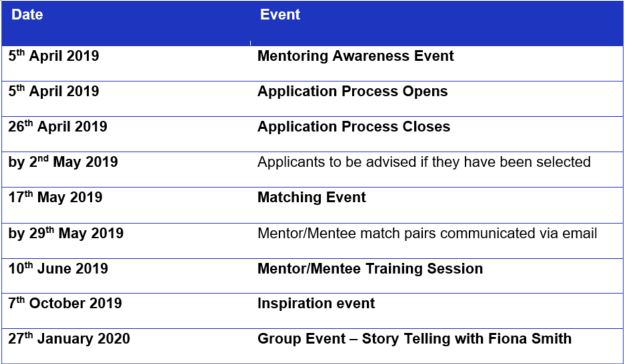 How many places will be available?
We are looking for a group of 40 mentors and 40 mentees from all areas and levels of the Corporation and the Lloyd's Managing Agents.
Is the programme open to global employees?
We welcome applications from global employees; however, this may restrict the possibility to attend some of the programme events and we may need to take a different approach within the matching process. If you are able to travel to the events, any travel costs incurred, must be settled by their own organisation or business cost centre. In 2018/19 we had a few global partnerships with good feedback, using technology to build effective partnerships.
How long will the relationship last?
The Mentoring Programme is designed to last from May 2019 through to January 2020. At the end of the initial period, the pair may decide to continue with the relationship, beyond the remit of the programme.
How much time will I need to invest?
Following the selection and pairing process meetings will take place for approximately one or two hours per month between both parties. Additional meetings may be arranged by mutual consent.
What format should the meetings take place?
It is preferable to conduct face-to-face meetings, however, for global based employees video-conferencing or skype is encouraged as a suitable alternative.
How will people be paired?
Your application will ask you to share details of what you want to get from the programme. Your feedback preferences from the matching event, will be used to make the decision of who would be the most appropriate pairings; thereby maximising the sharing of skills and experience available within the Lloyd's market pool of talent.
Am I guaranteed a place on the programme?
We cannot guarantee a place on the programme for all mentors and mentees who apply. There are a limited number of spaces available, and it is important that there is a match of numbers between mentor and mentee applicants, consequently there will need to be a selection process based on the initial application to ensure that we provide opportunities to a wide cross section of applicants. Ensure you consider your application fully in order to be successful with securing a space on the programme.
What will the programme cost?
There is no cost to apply or join the programme. All programme costs will be borne centrally by Lloyd's however any assistance with travel costs need to be paid locally.
Applications open
Application forms for the 2019/20 programme are now available