A thing of beauty is a joy forever… hopefully
There have been many policies covering art and jewellery over the years - two interesting ones are below.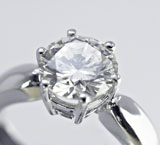 The Taylor-Burton diamond
Richard Burton purchased the 69.42 carat, inch thick diamond from Cartier for $1.1m, making it the world's most expensive diamond at the time. According to Burton, Taylor wanted the ring after he insulted her hands. 'That insult last night is going to cost me,' he wrote in his diary. 'Betcha!'

Once Lloyd's had insured the diamond, they specified that Taylor should wear it in public for only 30 days a year – and even then, be protected by security guards.
The Leonardo da Vinci cartoon
The Leonardo da Vinci cartoon of the Virgin and Child at the National Gallery. After a crank call, underwriters insisted the priceless cartoon be protected by a sheet of Perspex. This seemed excessive, but it was a masterstroke – shortly after, a German tourist made the artwork the target of a bottle of ink. The ink hit the Perspex.