Lloyd's is committed to creating an inclusive culture that attracts the most talented people in the world, so that we can together deliver on our purpose of sharing risk to create a braver world.
To get there, we need to be brave in our actions to accelerate change and transparent in how we measure our progress and hold ourselves to account.
We've launched the Culture Dashboard to do just that; it benchmarks our starting point and it will serve as an honest marker of our collective progress towards a much more inclusive environment – a market where everyone can achieve their potential.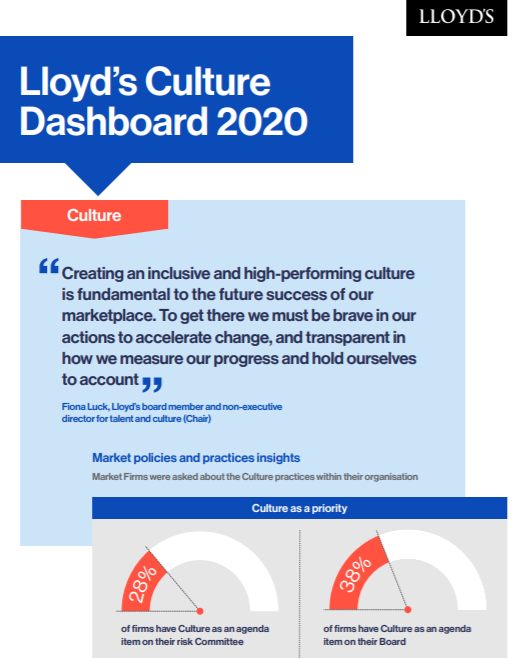 Lloyd's Culture Dashboard 2020
Based on Lloyd's first Annual Culture survey of 6,000 market participants and our Market HR Policies and Practices data, our ambition is for the Culture Dashboard to become the standard for inclusivity and positive corporate culture within our sector.
Historically, we know that our company and the market as a whole has a report card that says 'could do better' when it comes to taking action on equality. Not only do we have to change because an inclusive business is an ethical business, there is a wealth of evidence to show that it is good for the bottom line. Companies in the top quartile for gender diverse executive teams are 25% more likely to enjoy above-average profitability than companies in the fourth quartile (McKinsey).
Stepping towards positive change
The task is challenging, largely because data around inclusivity in our market is incomplete. More than a third (36%) of people in our market chose not to share their ethnicity data and not all firms even collect it. With this Culture Dashboard, we hope to prove that sharing information on diversity is the first step towards positive change.
Shared Goals
With this information we can build solutions and policies that set positive targets for ethnicity and other inclusivity issues in the same way as we are now seeing breakthroughs after setting similar goals for gender equality. We can only do this by sharing our goals and increasing the visibility of these issues across our business and beyond.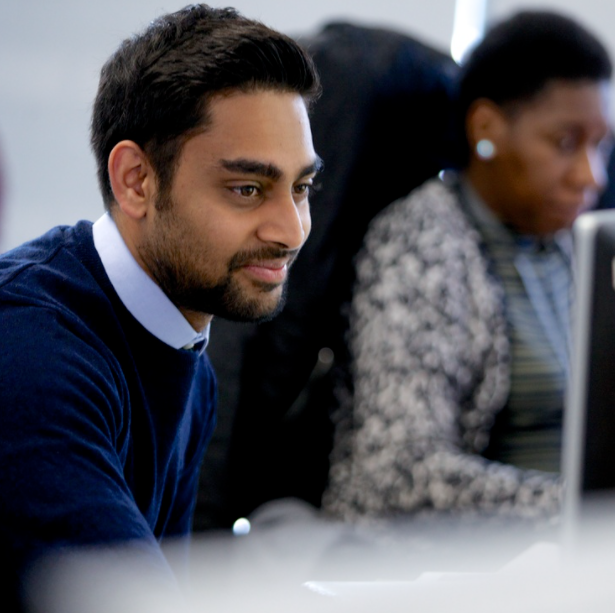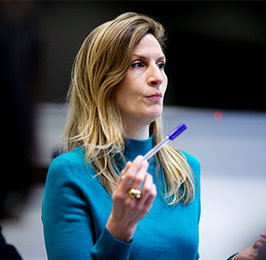 Transparency
We expect the findings revealed in this and future Culture Dashboards to be brutally honest. The data will paint a clear picture of how far we have come but, more importantly, how much more work we have to do. We can't hope to bring about change unless we know where we are starting from and what good looks like.
Culture
The majority of companies in the market don't address the issue of culture at either Board level, or as an item on their risk committee. This means they are missing important insights from employees, such as the discovery that nearly half of the women surveyed (48%) believe they have fewer opportunities than their male counterparts; and that less than half of employees (45%) feel comfortable raising concerns, or feel they are taken seriously when they do (41%). Culture is a company asset as much as any other on the balance sheet. Treating employees well is a matter of humanity but it is also fundamental to the long-term health of the organisation. When our colleagues thrive, we all thrive.
Moving the market forward
We won't create change if we keep these insights to ourselves. We are committed to sharing the Culture Dashboard with our wider community because:
It is our responsibility to our partners to create a diverse and inclusive culture
We must all be transparent about culture in the Lloyd's market
It holds us publicly accountable to our goals
Our progress will be clear and measurable
We hope to encourage our partners, customers and colleagues to take similar steps to address their own cultural issues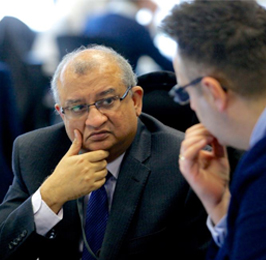 The data from our survey shows that, when there is a clear commitment and defined goal such as the 2020 target for women in leadership, we can make great progress. But this year's Cultural Dashboard also shows that we are only scratching the surface in other areas such as ethnicity. Action is urgently needed.
Now that we have these benchmarks – however low they are in some cases – we can start the work needed to improve on them. We'll be checking up on progress by updating the Culture Dashboard every year, but activity must be ongoing, and participation has to be across the board.
At Lloyd's we're working hard to build a culture of inclusivity, where everyone feels respected, valued and supported in reaching their full potential. Building that culture is a collaborative effort and we look forward to working with our colleagues, partners and the wider market to make it a reality.
Join us on this important step in our journey towards making real, lasting change across Lloyd's, the market, our industry and beyond together.