Delivering flexibility and connection on the move
We are developing a Lloyd's mobile app that will support the Lloyd's community to stay connected while adopting flexible, hybrid ways of working.
Whether you're in the Lloyd's building or in the Virtual Room the app will help users to move seamlessly between the two – managing your day on the move including arranging and holding meetings using voice and video calling and staying in the loop with notifications that require your attention, as well as news, events and insights relevant to you.
We are at an exciting stage in our development of the app and share initial concepts below. These will change as it's really important that we deliver solutions that work for users. To inform these developments, from 23 September we are demonstrating a prototype of the app on handheld devices in the Lloyd's building, using the canteen as our base. Your feedback is really important so that we can develop the features that will be most helpful to you. We are preparing to launch the app with registered users of the Virtual Room, so if you're not already on the platform please visit the Virtual Room webpage and register your interest now. You can also get involved in future research activity on the mobile app by signing up to our research panel.
Dashboard
Exploring what would help your day run a little bit smoother...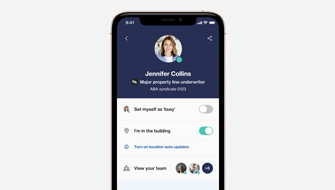 Profile
Identifying information to share, e.g. your location, availability and profile...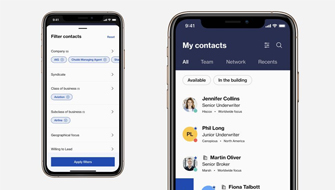 Contacts
Highlighting the information you want to see...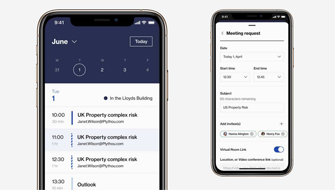 Calendars
Prioritsing how you want to manage your activity...
Your input will form part of a wider programme of research and development
With your help, we are continuing to conduct research to understand better the participants in the Lloyd's market, and their needs.
From 16 August 2021 we initiated a five-week diary research activity with a small cohort of individuals made up of brokers, underwriters and Lloyd's employees. This activity closed on 26 September. We will conduct our analysis with a view to sharing high-level themes following our internal review and governance processes.
Building on the response to our request from market participants to the diary research, we are running a new research activity in the Lloyd's building from 23 September to 14 October 2021. The 'Glass Lab' – a 'pop up' research area – will be located in the meeting rooms by the canteen and for four weeks, every Thursday on 23 September, 30 September, 7 October, and 14 October, we will be running different activities and strongly encourage those in the building to come along and get involved.
As noted above, from Thursday 23 September 2021 we are demonstrating the prototype of the Lloyd's mobile app on handheld devices in the Lloyd's building. Come and see us in the canteen to give us your feedback and suggestions to inform the next stage of development.
Your input will form part of a wider programme of research and development, including our research to find out how you are using our physical and virtual offerings. Please join our research panel to register your interest in getting involved in future research activities.
Please bookmark this page or save it to your favourites to see updates on both the development of the app and our research activities.