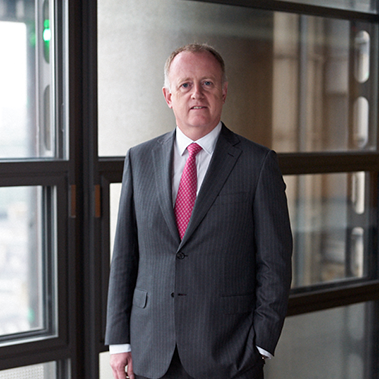 "2022 marked another year of continued progress and strong underwriting results for our market, following five years of hard work to get our performance, culture and digital transformation into shape."
It's been a difficult year for the global economy, businesses and households. That uncertainty poses opportunities to help customers mitigate new and evolving risks, through innovation and cooperation – and as insurers, we've shown sensitivity to the challenges our customers and people are facing, supporting them with the thoughtful and flexible solutions they need. 
Against this landscape, we have demonstrated the collective strength and resilience of the Lloyd's market; through both our financial performance and playing a leading role in responding to challenges such as climate change and cyber risk. Our work has paid dividends throughout the year – and though there's more to do, it has allowed us to set our sights on growth and lead our industry in the years ahead.
Sustaining performance
Nowhere was that work more evident than in our underwriting results for 2022, which demonstrate a profitable and high performing marketplace that can support sustainable growth through 2023 and beyond. 
Continuing our strong underwriting performance, the Lloyd's market delivered a fantastic combined ratio of 91.9% (2021: 93.5%) and an underwriting result of £2,641m (2021: £1,741m) – a top quartile result compared to industry peers. The expense ratio fell again to 34.4%, from 35.5% in 2021, building on the hard work to reduce the cost of doing business in our market. We reported an overall loss of £769m before tax, due to mark-to-market accounting rules on our investments requiring us to mark the value of assets down to reflect prevailing market conditions – in this case, rising interest rates. However, this loss is expected to reverse out over the coming years as higher interest rates lead to greater investment returns on our assets. 
Alongside our outstanding underwriting performance, Lloyd's reported a high-quality balance sheet that has enabled us to withstand a range of external shocks, from natural catastrophes to the conflict in Ukraine. Our central solvency ratio of 412% puts us among the most resilient organisations in the industry and, importantly, in a position to continue supporting our customers. Meanwhile, we expanded our offering for capital providers at Lloyd's with the launch of London Bridge II – our second investment vehicle – enhancing the choice and ease with which funds can be placed in our market.
Driving digitisation
It was also a strong year of progress on Blueprint Two – the digital transformation programme that's making our market better, faster and cheaper for everyone placing their business here. 
After launching an end-to-end roadmap in January last year, we made great progress in the months that followed to deliver the digital solutions that will power the Lloyd's market of the future. Delivering the landmark agreement for the London Market Joint Venture has meant we are now building a credible digital solution fit for the whole London market. The newly established London Market Data Council agreed the scope and approach of the Core Data Record and Market Reform Contract to standardise the data we use across the London market – a first in specialty (re)insurance. Our new Faster Claims Payment solution is enabling customers to be paid in hours and days rather than the weeks and months it took before – including in the wake of Hurricane Ian. 
Blueprint Two is a complex programme with a huge number of stakeholders – so to have the expressed support of both market participants and technology providers involved is excellent progress indeed. My thanks go to everyone in the market and beyond who has made that progress possible in 2022.
Leading where it matters
We wouldn't be who we are without a clear purpose; and 2022 saw us carry out our purpose of sharing risk to create a braver world by providing leadership and driving action on the issues that matter to societies and communities. 
Climate change remains the defining challenge of our time – and our work with the Sustainable Markets Initiative, where Lloyd's chairs the Insurance Task Force, was crucial in that context. Those efforts complemented the innovation we're seeing within our market to build resilience and solutions across a range of systemic risks – the likes of which we've talked about in theory, but rarely seen in practice – from cyber attacks and geopolitical conflicts to future pandemics. 
Behind this, we've worked to cement Lloyd's position as a destination for global talent, realising the strengths inherent in our market: our connectivity, innovation and societal impact. But we can't embrace those strengths unless everyone can thrive and feel welcome in our marketplace, which is why our work to build an inclusive culture, from hiring targets to development programmes for diverse leaders, are so important. It's all to support a more diverse, creative and dynamic Lloyd's market – with people at the very heart of its fabric.
Delivering lasting performance
As we look ahead to 2023, we'll be supporting our market to grow where we've seen a track record of strong performance, expertise and ambition – while sustaining the underwriting excellence for which our market is renowned. We'll seek to generate even better value for our customers and investors as we continue to tackle cost and inefficiency. 2023 will be a key year for digital transformation, where our market's engagement and adoption of the Blueprint Two solutions will be the crucial determinant of success. We'll also maintain our focus on attracting and developing the very brightest minds from around the world – ensuring Lloyd's remains the innovative force it's been for the past three centuries.
"As much as it's in our power to do so, we will offer the leadership society needs to help navigate its current challenges, guided by our purpose and the need to create genuine value for our customers."
Our world becomes more knowledgeable, connected and resilient every year – and insurance sits right at the heart of helping people build confidence to make decisions and continue innovating. We'll keep throwing ourselves into that task in 2023, showing determination and resolve as we partner with industry, governments and communities – to weather the storms and embrace the opportunities that lie before us. 
Reasons to be confident indeed.