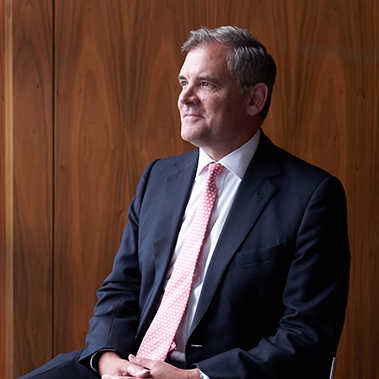 Bruce Carnegie-Brown
Chairman, Lloyd's 
"Lloyd's has demonstrated great financial strength – with double digit growth, a strong combined ratio and an exceptional capital position."
Lloyd's has every reason to be proud of its performance in 2022. Despite several years of turbulence; from the political shocks of 2016 to the pandemic which continues to have an impact in 2023, and headwinds which include major claims in Ukraine and Hurricane Ian in the US – we continue to deliver sustainable and improving underwriting performance. 
Lloyd's has demonstrated great financial strength – with double digit growth, a strong combined ratio and an exceptional capital position – driven by the market's greater attention to underwriting discipline and risk selection, started in earnest five years ago and pursued consistently since. That focus is bearing fruit in the form of consistent performance and a resilient balance sheet, allowing us to be the source of stability, protection and advice that our stakeholders – customers, governments, regulators, capital providers and intermediaries – need at this time.
Demonstrating leadership
The operating environment has been difficult for everyone. The overlapping crises we've faced have created a complex set of challenges for us to tackle: from the risk of recession to the impacts of inflation on the cost of living and on claims. 
It has now been a year since Russia's invasion of Ukraine: an event that has caused shockwaves around the globe. Rising food and energy prices triggered by the invasion have left households and businesses in difficulty; while the initial economic rebound seen in 2021 has dissipated into slow growth in 2022. 
The need for businesses to show leadership and a clear direction of travel has never been greater – from net zero to building a more inclusive society, restating what we stand for and strive for – and partnering broadly to achieve those goals – is an essential part of supporting our world through those present challenges. Lloyd's has an important role to play in demonstrating the value and expertise of our marketplace and in our ability to convene and lead the global insurance industry to find risk solutions in an uncertain world.
Supporting a braver world
Our purpose at Lloyd's is to share risk to create a braver world. By pooling the expertise and capacity of insurers in our market, we help people and businesses make smarter and bolder decisions in the face of uncertainty. When conflict hit Ukraine, we worked to support both an effective response – delivering government sanctions and tackling the complex challenges faced by customers – and proactive resilience, delivering research insights and creating new solutions such as a landmark insurance facility to enable the export of grain from Ukraine to the world.
"Our purpose at Lloyd's is to share risk to create a braver world. By pooling the expertise and capacity of insurers in our market, we help people and businesses make smarter and bolder decisions in the face of uncertainty."
At the same time, rising prices and a slower growth environment have required us to show sensitivity and pragmatism in how we support our people, customers and communities. In September, we issued a one-off payment to many Lloyd's employees to help with the cost of living; while the creation of our Lloyd's of London Foundation has enabled us to support charities and communities around the world. In tandem, we have worked with our market to manage the cost and capital implications of a high inflation economy. 
Behind these efforts, we have continued the important work that forms the core of our market: understanding complex risks and finding ways to mitigate them. That includes sharing our expertise on natural catastrophes with a world that has seen these events grow in frequency and severity in recent years, while working to build climate resilience in communities around the world. At the same time, we have continued innovating to develop new centres of excellence in fields like cyber, space and renewable technologies.
The spirit of Lloyd's 
At the heart of our market is collaboration. No small amount of that was needed in 2022, and I'd like to thank our people – in the Corporation and across the market – for the outstanding commitment and creativity they have shown in supporting the market's strong performance throughout the year. That spirit extended to our wider networks, where we joined with government, regulators, investors and academia to innovate and, importantly, to find solutions. 
We can say with certainty that 2023 will bring challenges of its own; yet that has been the trend over our 330 plus years of operating at Lloyd's. I am confident we will see a world growing in ambition in the coming years – and Lloyd's stands ready to progress and enable such ambitions. We look forward to working with all our stakeholders to support that braver world in 2023 and beyond.
"I am confident we will see a world growing in ambition and bravery in the coming years."