Safeguarding reputation
Are you prepared to protect your reputation?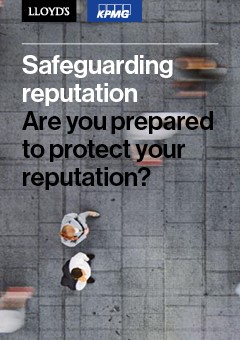 Safeguarding reputation
Reputation is a risk of risks. That means that any major adverse events impacting an organisation can lead to potential reputational damage. Considering the global reputational value is estimated to be in trillions of $US, a colossal amount of corporate value is at stake. The good news is that not every accident will necessarily lead to actual damage – it will often depend on how the organisation acts in the aftermath of the crisis.

In this report, we explore how organisations can keep their reputation safe throughout the reputation lifecycle – from proactively enhancing brands and preventing adverse events as part of business as usual activities, to building a 'bank' of positive sentiment, through to limiting the damage after an incident, and finally  rebuilding reputation in the aftermath of the incident.

We have identified five key actions that risk owners in organisations need to think about to really advance their preparedness to safeguard their reputation. These include:

Proactive signal sending to identify changing social norms or changing narratives among your stakeholders. 
Building resilience across the whole organisation to prevent occurrence of the consequential risk to reputation. 
Creating culture of responsibility throughout the organisation (reputation can't be effectively managed in a single risk manager team).
Training at all levels, including senior executives. 
Minding your own business model to make sure you understand how each stakeholder group influences your business success. 
An interesting part of these safeguarding efforts is insurance. There are multiple existing reputational risk transfer solutions already available, and the insurance market is pursuing a range of activities to continuously increase its knowledge and relevance. There are now many opportunities for organisations to transfer potential risks to reputation at Lloyd's.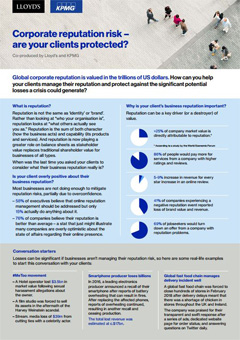 Corporate Reputation Risk - one pager
When was the last time you asked your clients to consider what their business reputation really is? Start the conversation after reading this quick summary of the Safeguarding Reputation report. It contains:
Statistics to show why business reputation is important
Real life examples of reputation management (good and bad)
Insurance solutions available to manage reputation risk
Best practice for managing reputation risk