Safeguarding intellectual property
Intellectual property is often referred to as 'the currency of the knowledge economy' In terms of currency, the value of IP has appreciated consistently in recent years Revenues earnt from leasing IP have increased almost 700% between 2012 to 2018 with an expectancy to continue its rise in the decade ahead. Many of the world's most valuable businesses have sizeable IP portfolios and many of the market challengers or disruptors are trying to bring new ideas to the market that require legal protection. COVID19 has amplified some of these trends, with businesses racing to open up digital presence and still trying to adjust to the full consequences of remote working. According to some studies, only about half of corporate leaders understand the value and importance of IP and are actively involved in strategic planning related to IP. This means that IP decisions are often delegated to lower level legal staff who understand IP but do not necessarily understand broader strategic implications.
This new Lloyd's report, published in collaboration with KPMG, is the second report of the intangible asset series. It provides a deep dive into the subject of intellectual property identifying the key external and internal risks confronting this asset class. The report dives into 6 intellectual property assets:
Copyright/ database rights
Patents
Trade marks
Industrial designs
Geographical indications
Trade secrets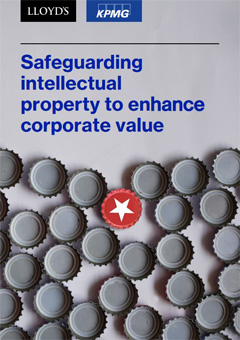 Safeguarding intellectual property
The report provides a comprehensive analysis of these assets, the risks associated with each one and actions organisations can take to protect against these risks that could be affecting their intellectual property value. The report sets out 4 actions risk owners and managers of organisations can take to enhance their risk management practices around intellectual property and to increase their preparedness for the everchanging risk landscape.