Lloyd's protecting intangible assets
For several decades, organisations around the world have gradually embraced digital business models, opening doors for new technology driven industries such as AI, robotics, 3D printing and cryptocurrencies. The largest increases in market capitalisation in the last decade have been happening in the technology sector, where a significant proportion of the value of these businesses can be attributed to intangible assets. The value of intangible assets has been steadily rising, accounting for as much as 85% of the total business value across industries today. With the acceleration of digital business models, amplified by Covid-19, this value could now increase much further, becoming a major driver of overall business success across many industries.
This new Lloyd's report, published in collaboration with KPMG, is the first of four reports and provides a high-level analysis of intangible assets. The following three reports will provide 'deep dives' into three intangible assets identified as most important to creating value. This report outlines eight intangible assets:
Intellectual property
Proprietary software and databases
Written processes and procedures
Organisational culture, rules, norms
Relationship with customers
Reputational and brand
Relationship with distributors, partners
Human Capital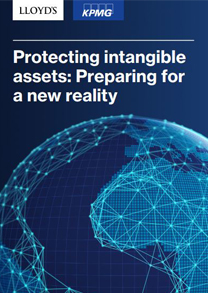 Lloyds Protecting Intangible Assets
The report provides a comprehensive analysis of the main risks impacting each intangible asset and discusses the importance of quantifying and monitoring their value over time. Organisations need to build resilience and become proficient at safeguarding their existing and new intangible assets. The report sets out five actions risk owners and managers of organisations can take to enhance their risk management practices, and to increase their preparedness for the ever-changing risk landscape.