Shifting powers: Meeting the challenges of the geopolitical landscape
In just the last decade, the geopolitical risk landscape has undergone something of a paradigm shift. The Western-dominant, American-led, liberally fiscal, status quo that defined the political world and economic growth for much of the second half of the 20th century no longer feels like a realistic barometer for how future events – wars, riots, elections, treaties – will play out on the global stage.
Instead, we face a future in which multipolarity, the equal distribution of power between two or more states, changes the behaviour of risks to the increasingly connected global system. Today, the price of oil, elections in South America, or the failure of an emerging economy create far-reaching effects through the globalised system. In the future, the exposure to these effects will likely only grow as the structure of our globalised economy shows very few signs of ending soon. Most of the last decade's geopolitical upheavals can be directly attributed to the fallout from the global financial crisis and the austerity measures that followed. The economic havoc generated by covid-19 has reopened many of those wounds and will carry with it new rivalries as well as the hangover of national debt.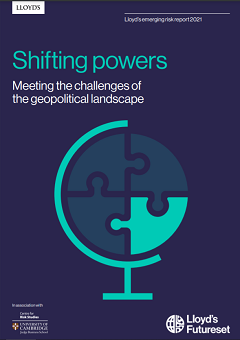 Shifting powers: Meeting the challenges of the geopolitical landscape
01 September 2021
Geopolitics is a huge field, encompassing war, protest, religion, culture, trade, treaties, technology, historic rivalries, and emerging ambitions, among other factors.
This report examines the geopolitical risk landscape over the last decade and aims to establish a high-level picture of the next one to three years. We identify ten core themes to analyse the geopolitical landscape and present a variety of scenarios of differing probability and impact, indicating the main insurance product that would respond in each case.
Inspired by these themes and scenarios, we also propose a list of mitigating actions for risk owners and risk managers to consider and review.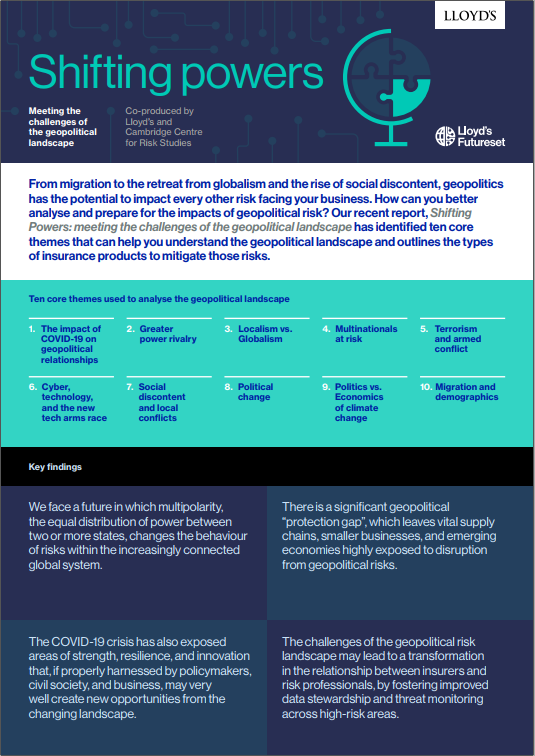 Shifting powers: Meeting the challenges of the geopolitical landscape
From migration to the retreat from globalism and the rise of social discontent, geopolitics has the potential to impact every other risk facing the businesses of each of your clients. Help them to better analyse and prepare for the impacts of geopolitical risk with this short summary of the takeaways from the report. It outlines the key findings; provides a checklist of the top ten mitigating actions to use in their businesses; and includes a table to use as a guide when choosing the right type of insurance coverage.
Useful links