Explore Lloyd's in depth insights
Staying informed is critical when it comes to risk preparedness. Here, we've curated our latest research and insights on emerging and systemic risk, providing a future-focused view on today's most important topics. These vital resources can help you tackle present and future challenges with confidence.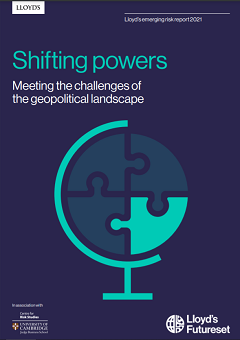 Shifting Powers: Meeting the challenges of the geopolitical landscape
01 September 2021
Geopolitics is a huge field, encompassing war, protest, religion, culture, trade, treaties, technology, historic rivalries, and emerging ambitions, among other factors.
This report examines the geopolitical risk landscape over the last decade and aims to establish a high-level picture of the next one to three years. We identify ten core themes to analyse the geopolitical landscape and present a variety of scenarios of differing probability and impact, indicating the main insurance product that would respond in each case.
Inspired by these themes and scenarios, we also propose a list of mitigating actions for risk owners and risk managers to consider and review.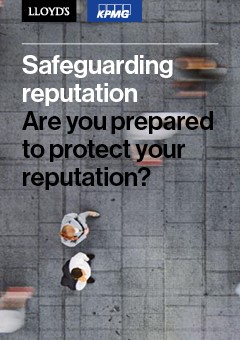 Safeguarding reputation
16 Nov 2020
Reputation is a risk of risks. That means that any major adverse events impacting an organisation can lead to potential reputational damage. Considering the global reputational value is estimated to be in trillions of $US, a colossal amount of corporate value is at stake. The good news is that not every accident will necessarily lead to actual damage – it will often depend on how the organisation acts in the aftermath of the crisis.

In this report, we explore how organisations can keep their reputation safe throughout the reputation lifecycle – from proactively enhancing brands and preventing  adverse events as part of business as usual activities, to building a 'bank' of positive sentiment, through to limiting the damage after an incident, and finally  rebuilding reputation in the aftermath of the incident.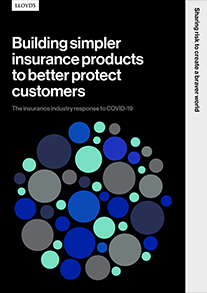 Building simpler insurance products to better protect customers
12 Oct 2020
Insurance plays an essential role globally for society – by providing financial relief to customers during challenging times, it helps people, businesses and economies recover from unexpected disasters. For many, this worked as intended during the COVID-19 pandemic. However, in some instances there has been confusion.

This report sets out three key recommendations that the global insurance industry should implement to respond to the challenges that COVID-19 has presented. Alongside these global industry recommendations, the report also outlines the affirmative actions Lloyd's is taking on its own.

By simplifying insurance product design and delivery, Lloyd's and the global insurance industry will ensure it remains relevant and trusted by customers, creating a braver, more resilient world.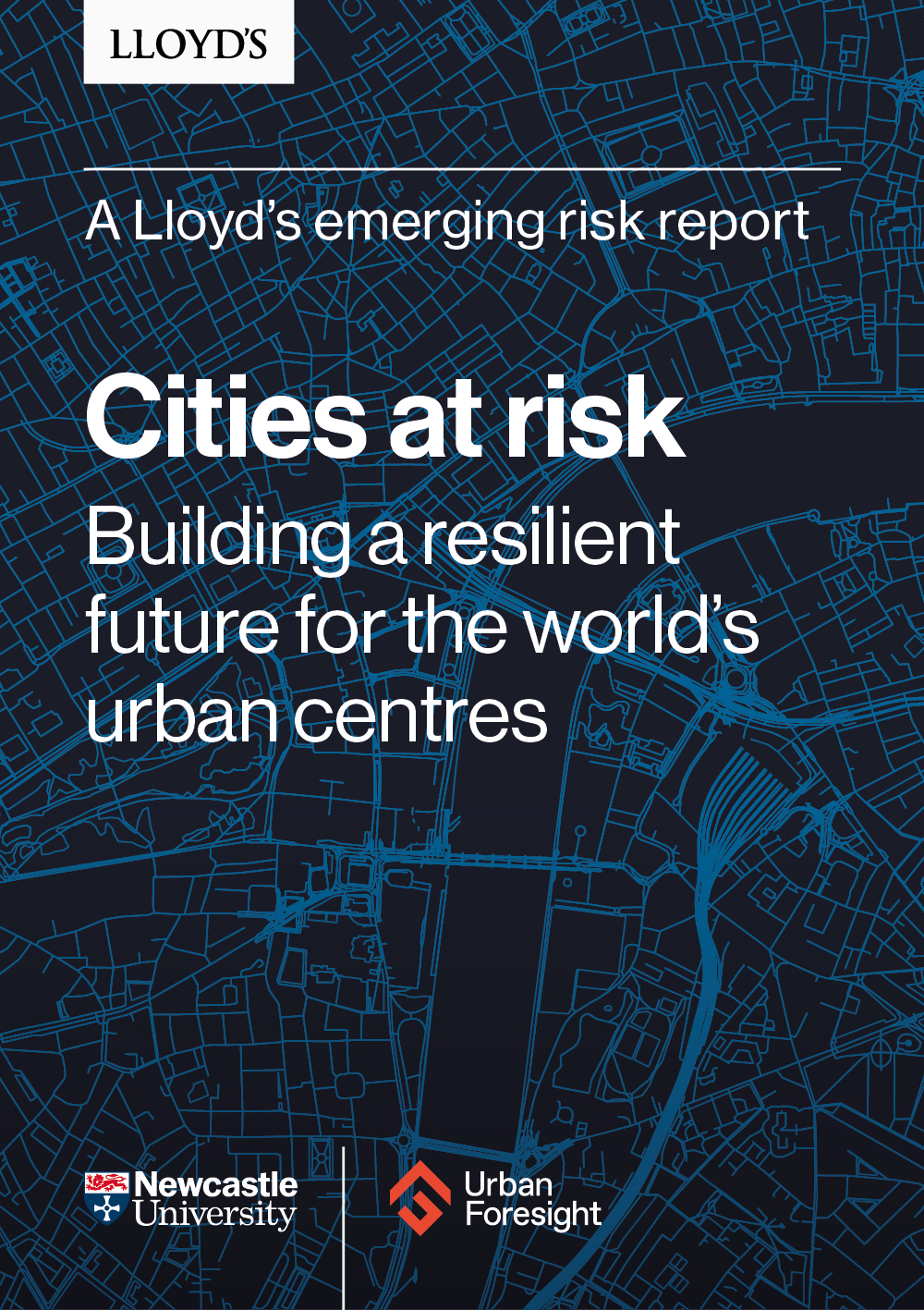 Cities at risk – Building a resilient future for the world's urban centres
01 Oct 2020
This report, commissioned before COVID-19 and published in collaboration with Urban Foresight and Newcastle University, provides a comprehensive analysis of the risks' cities are facing and will face in the future. It looks at their impacts and how urban areas can protect themselves from these threats.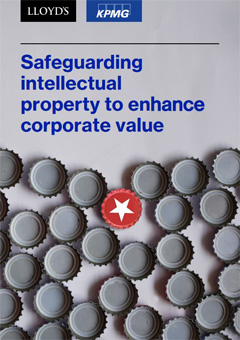 Safeguarding intellectual property
22 September 2020
This report provides a comprehensive analysis of these assets, the risks associated with each one and actions organisations can take to protect against these risks that could be affecting their intellectual property value. The report sets out 4 actions risk owners and managers of organisations can take to enhance their risk management practices around intellectual property and to increase their preparedness for the everchanging risk landscape.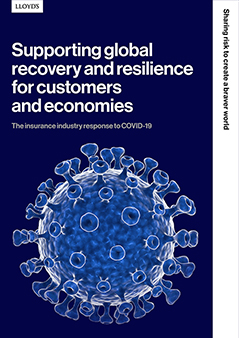 Supporting global recovery and resilience for customers and economies
01 Jul 2021
COVID-19 has resulted in a humanitarian crisis on a scale the world was underprepared for. Society has responded collectively, with businesses, charities, communities and governments working together to tackle the health crisis, provide financial support to workers and companies, and bolster economies.

This paper proposes several solutions that could offer customers greater protection against a future wave of the COVID-19 pandemic or against future systemic risks. The paper also outlines additional ways in which Lloyd's and the global insurance industry could respond to protect customers.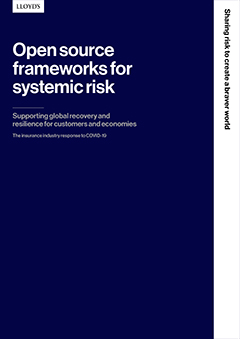 Open source frameworks for systemic risk
01 Jul 2020
This document outlines open source frameworks for three of the potential structures outlined in 'Supporting global recovery and resilience for customers and economies, the paper developed by Lloyd's in response to the COVID-19 crisis and in preparation for future systemic risks.

The proposed open source frameworks provide a blueprint for the insurance industry to help strengthen societal resilience in the face of black swan events.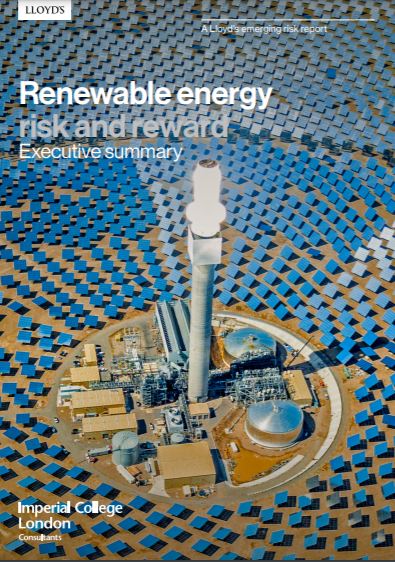 Renewable Energy: Risk and Reward
26 Feb 2020
This series of three reports on the renewable energy sector by Lloyd's, in association with researchers from Imperial College London's Centre for Energy Policy and Technology (commissioned via Imperial Consultants) analyses the implications of the changes to the energy generating landscape for insurers, risk managers and brokers.