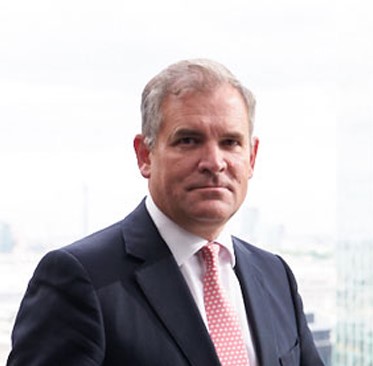 Bruce Carnegie-Brown
Chairman, Lloyd's
Our mission at Lloyd's is to help society create a braver world: building resilience against the unforeseen and building confidence in the everyday.
So in a year where we were forced to work through another 12 months of COVID-19, alongside the continued warming of our climate and, as I write this statement, a conflict in Ukraine; it's fair to say we have needed resilience more than ever.
Our thoughts continue to be with the people of Ukraine as they respond to the damage and disruption caused by Russia's invasion into their lands. We've been working to help governments, regulators and businesses in the UK and around the world implement the sanctions we hope can speed the end of this conflict, and we will continue to deploy our market's expertise, relationships and resources behind that goal.
Both COVID-19 and the conflict in Ukraine remind us how the risk landscape has changed. One began as a health risk, the other as a political hazard; yet both have evolved into global crises with far-reaching economic, environmental, and humanitarian consequences. The message is clear: no longer can we view our interests and risks in isolation to others; we must see them as an interwoven web of interests, dependencies, and impacts. This idea underpins our market's work to help society manage and mitigate risk and is the driving principle behind our purpose.
Sharing risk to create a braver world
Recent years have placed fresh demands on what society expects from businesses. The services we provide, the way we protect and invest people's money and assets – these are essential functions forming just one part of the fabric of a functioning society.
Insurance products have always played a vital role in helping people and businesses thrive. By pooling our risk with others, we enable more confident and informed decisions about the future. It's why our purpose at Lloyd's is 'sharing risk to create a braver world'; because we want to help people break new ground and make bolder decisions.
To perform this critical role in society, we must first be in a good position ourselves. That's why our focus on sustainable growth is essential: a healthy, future-proofed organisation will be better equipped to invest, innovate, and improve its offering to society – over a period of decades, not just quarters. Doing the right thing and setting oneself up for future success usually demands a degree of compromise, cost, and contemplation in the near term: which is why 2021 was, for Lloyd's, the year of short-term groundwork to sustain long-term growth.
This was certainly true across our four areas of strategic focus in 2021: financial performance, digital transformation, purpose, and culture.
Short-term groundwork, long-term growth
2021 saw us continue the important work of bringing our market's performance up – and the cost of doing business down – by focusing on underwriting discipline, digitalisation, and a new principles-based approach to market oversight. This has required some degree of intervention, and an even greater degree of discussion with our market partners, however the end product is a higher quality marketplace with a reduced regulatory burden; one that is 'match fit' to grow and compete in a complex and uncertain world. Our 2021 results, covered in more detail later, testify to this much improved and encouraging performance.
Supporting our market's evolution, we continued our digital transformation through Blueprint Two to make Lloyd's a better, faster, cheaper place to do business. The work has involved diving into the weeds of our platforms and processes as a market; the first time in 20 years we've considered an overhaul of the Lloyd's market on this scale. This difficult, foundational work has put us in a position to launch an end-to-end roadmap for our digital journey, offering the market greater clarity on how and when these changes will be delivered. They are changes that will set the market up for sustainable growth for decades to come.
As we grappled with what it means to live out our purpose in 2021, our efforts doubled around the climate challenge and supporting the transition to a low carbon economy. We focused on our own emissions, the footprint of our investments and the exposure of our market; but we also worked to mitigate the societal impacts. As Chair of the Sustainable Markets Initiative Insurance Task Force, convened by HRH The Prince of Wales, we continued the important work of bringing our industry together to develop the solutions that will make our world more resilient to the impacts of climate change. It was a year of challenging conversations and forward investment, but that essential groundwork will help us sustain an increasingly swift and secure transition in the coming decades.
Finally, we embarked on the crucial task of building a more inclusive culture for the Corporation, market, and society. As this report outlines, this included progress in promoting gender and ethnic diversity within our market, alongside a clear need to do more in the coming years to shift the dial. Following our apology in 2020 for the role of the Lloyd's market in the slave trade, 2021 saw us begin the complex undertaking of untangling our history as an organisation. We have since announced an exciting collaboration with Johns Hopkins University, which will expand our search into our archives while seeking to amplify those voices and communities who historically have been excluded from the conversation.
Towards a braver future
2021 was certainly not an easy year: from performance and digitalisation, to climate change and culture change, we sought to grapple with the difficult issues that must be addressed to help our market and society move forward. Putting this essential groundwork in place has been the right thing to do and is an essential part of building a sustainable, resilient marketplace that can drive growth and innovation for decades to come.
Our strong financial performance in 2021 and our progress against our purpose represent encouraging returns on our investment in this foundational work. We expect further benefits will become more visible and valuable as we go further and faster on all fronts in the years ahead.
In the meantime, we will continue to play our part in supporting the people of Ukraine, whose courage and ideals should inspire us all to work towards a braver world.