Chairman and Chief Executive statements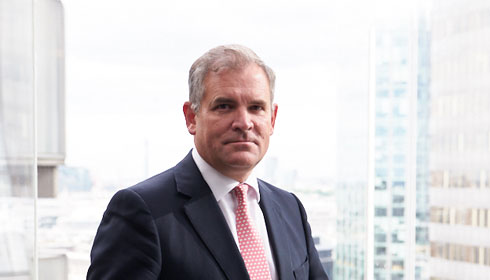 Bruce Carnegie-Brown

Chairman of Lloyd's
After a number of relatively benign catastrophe years, the second half of 2017 demonstrated the precarious nature of the world in which we live.
In addition to Hurricanes Harvey, Irma and Maria, among other events, there were also devastating wildfires in California, an earthquake in Mexico, monsoon flooding in Bangladesh and a mudslide in Colombia.
The impact on communities and businesses has been immense, and the Lloyd's market is working hard to ensure we are paying claims to policyholders as quickly as possible. To date, the market has paid more than 50% by value of the claims notified in relation to Harvey, Irma and Maria, and is in the process of paying the rest.
The significant claims the market incurred this year have contributed to turning last year's £2.1bn profit into a £2bn loss in 2017. This is not a surprise. Last year it was clear that the benign claims environment was masking the impact of tough trading conditions and so it has proved.
Despite these losses, Lloyd's capital position remains strong. Our financial ratings remain at A (Excellent) from A.M. Best, A+ (Strong) from Standard & Poor's and AA- (Very Strong) from Fitch.
The focus on paying claims in the second half of the year has provided us with an opportunity to advocate for the purpose of what we do, and to evidence Lloyd's important role in helping nations, businesses and communities to recover quickly post disaster and to reduce risks in the future. The market's response to these crises continues to be exemplary and demonstrates the important social value of insurance.
I expect 2018 to be another challenging year for Lloyd's and the Corporation continues to refine its strategy to address evolving market conditions.

Throughout this year we will focus on using a risk-based approach to ensure our oversight is appropriate in giving the right level of prudential protection and to help achieve sustainable growth; on modernising operations and services; and on exploring new ways in which we can use technology to improve access to Lloyd's.

This will include an Innovation Lab, which will enable new concepts and ideas to be tested in a fast-track, fast-fail environment with the support and active involvement of the Lloyd's market.

We continue to prioritise growing in our established markets. The US is our main market and contributes more than 40% of our premium, with 2017 seeing growth of 7% in excess and surplus lines and 2% in reinsurance.

We continue to advocate for an agreement between the UK and the EU which would allow us to continue to do business on the Continent as we do now. However, to prepare for an outcome which does not permit this, we are moving ahead with our plans to establish a Lloyd's subsidiary in Brussels, which will provide access to Lloyd's for brokers and clients after the UK leaves the EU. Our subsidiary will be open for business from 1 January 2019.

The market's 2017 results are proof, if any were needed, that business as usual is not sustainable. As a result the market is embracing new ways of working, and I am confident the combination of our strategic focus and the market's proven ability to respond to challenging conditions will ensure Lloyd's continues to offer innovative and competitive solutions across all lines of business.

I want to thank the retiring Council and Board members who have served Lloyd's so well over many years. Fred Hu has stepped down from the Council, while Joy Griffiths has completed her term on the Board. I would like to extend a warm welcome to Mike Bracken, Nigel Hinshelwood, Patricia Jackson and Fiona Luck who have joined the Board. Patricia succeeds Joy as the chair of our Risk Committee.

Finally, I'd like to thank the Lloyd's market for the support I have received in my first year as Chairman. It is a privilege to be asked to serve the Lloyd's market in this role and I look forward to working with everyone in the market to deliver on our ambitions for its future success.
£27.6bn
Total net resources
£33.6bn
Gross written premiums
£1.8bn
Net investment income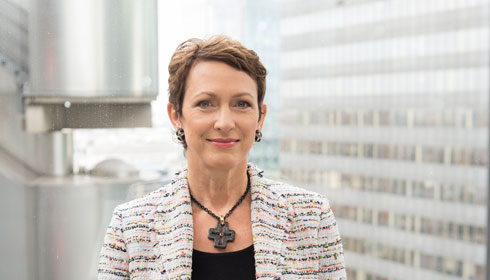 Inga Beale

Lloyd's Chief Executive Officer
The Lloyd's market experienced an exceptionally difficult year in 2017 driven by challenging market conditions and a significant impact from natural catastrophes.
These factors mean that for the first time in six years Lloyd's is reporting a loss – the aggregated 2017 market result is a loss of £2bn.
The result reflects the market facing one of the costliest years for natural catastrophes in the past decade. The frequency and scale of the disasters that struck around the world saw major claims costing the Lloyd's market £4.5bn, more than double the previous year (2016: £2.1bn). It is in these moments that Lloyd's proves its value and its strength by paying claims. Overall, the Lloyd's market paid out £18.3bn in all claims (gross of reinsurance) during 2017.
The Lloyd's market has been more than able to meet these substantial commitments without any significant impact on our total resources which remain strong at £27.6bn.
The significant loss activity in the second half of 2017 generated a full year underwriting loss of £3.4bn (2016: £0.5bn profit), resulting in a combined ratio of 114.0% (2016: 97.9%).
While pricing remains under considerable pressure, gross written premiums have seen 6% growth, excluding the effect of foreign exchange movements, to £33.6bn (2016: £29.9bn). This is in line with Lloyd's continued focus on measured and sustainable growth, and is driven in part by the development of new products such as cyber and growth in the US. Net investment return increased to £1.8bn (2016: £1.3bn).

Although it has been a particularly difficult year, Lloyd's has lived up to its centuries old promise and purpose – to be there when it matters most, providing the financial support to enable businesses, governments, and most importantly people to recover and rebuild their lives as quickly as possible.

The Lloyd's market has earned the trust of its policyholders over the past 330 years, through world wars and revolutions through to some of the world's most destructive disasters and greatest innovations. Renowned for its ability to absorb risks from all around the world, provide pioneering solutions to some of the biggest, newest risks out there, and pay all valid claims, Lloyd's continues to enable human progress.

But we cannot take that trust for granted. Every day we have the opportunity to either earn trust, or lose it – depending on the decisions that are made at every level in the Lloyd's market.

The Corporation must address two key challenges. The first is to speed up the adoption of the market's modernisation programme, which will digitise processes, reduce unsustainable expense ratios, and make Lloyd's more attractive to do business with.

While the London market has made great strides, investing time and money in the London Market Target Operating Model programme and delivering systems that work, adoption is not happening fast enough, particularly in the case of electronic placement. Without higher levels of adoption throughout the market we put our investment to date at risk and we are in danger of seeing administration costs rise even higher. It is for this reason that Lloyd's will be mandating the use of electronic placement on a phased basis over time. Unless the market moves together it will not reap the benefits and reduce administration costs. Electronic placement will support face to face negotiation, further increase efficiency in the market, reduce back office costs and most importantly, improve customer service.

The Lloyd's Market Association has been a valuable partner as we lead and drive through such major transformation. We are also grateful to the brokers and the International Underwriting Association (IUA) representing the non-Lloyd's carriers, in terms of the significant support and leadership shown in the London market modernisation efforts.

Lloyd's continues to be an active member of the London Market Group (LMG) and is proud that a Lloyd's syndicate was the first to make use of the Insurance Linked Securities (ILS) regulations, a key initiative of the LMG.

The second challenge is to increase the talent diversity of the Lloyd's market and the Corporation, including senior leadership. We need to attract the best talent from around the world if we are to continue to innovate and provide customers with the products they need in today's fast-changing risk landscape. That is why we are working hard on closing the Corporation's gender pay gap.

We are taking our gender pay gap (27.7%) extremely seriously. While our gap is nothing to be proud of, reporting on the gender pay gap is an important step forward in tackling this long-standing and systemic issue. The gender pay gap is different to equal pay, which is men and women being paid the same for the same work or work of equal value. We do not believe we have an equal pay issue. However, we review this on an annual basis as part of our compensation review process.

The Corporation already has in place initiatives and policies to redress the gender imbalance, but it is clear that we need to expedite progress. For 2018, we have committed to an additional four key actions in an endeavour to close the gender pay gap.

For the Corporation, 2017 also involved reorganising ourselves to ensure that we are fit-for-purpose, with cost-efficient, streamlined services. As part of our reorganisation, it did mean that we had to say goodbye to a number of employees, all of whom have contributed to Lloyd's success over the years and decades. I want to thank them for their service and wish each of our leavers every success.

Although 2017 has been an incredibly tough year for the Lloyd's market, our excellent capital strength demonstrates that Lloyd's remains in robust financial shape. With a leadership team actively addressing the challenges the Lloyd's market is faced with, I'm confident that we go into 2018 in a strong and secure position.