Mentoring Case Study: Daniel and Mossamma
Mossamma is currently studying for her A Levels at Swanlea School in Tower Hamlets and is passionate about illustration, art and design. Her ambition is to work as an Animator for Dreamworks Studios. Through the Lloyd's Community Programme mentoring scheme, she was matched with Daniel Evans who started his career as a runner in the film industry in Canada and now works as a Senior Associate at Aon Inpoint.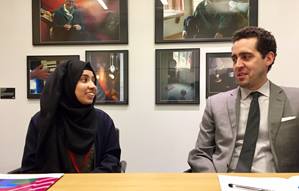 Daniel: "I wanted to pick up something that would fit in to my work schedule and I liked the idea of trying to connect people, as well as doing something useful for a young person.
My first meeting with Mossamma was very positive, and I was really looking forward to seeing where she wanted to go. During our first sessions we explored where she was at with her own development and what ideas she might have. From there, we went through a series of relatively structured exercises around discovering what her options were, what her preferences were, what different career paths there were and what different people she could reach out to.
This wasn't solely focussed on her going straight to university. We also looked at alternate career paths where Mossamma could get some related experience that would give her another way of entering into the profession, such as being a runner on a film set or animation studio and then building her way up.
Mossamma brought in her portfolio and our activities were usually related to this. I reached out to people that I know who are still in the film business and asked them a series of questions around what should be in a portfolio, how it should be ordered and structured, and what types of techniques Mossamma should look at for her applications to schools. We then moved on to the administrative and networking aspects that someone would run into for a career in the arts.
My highlight was getting feedback on Mossamma's portfolio, sharing this with her, and seeing that it was valuable to her. I was really happy that I was able to provide her with some value. The other thing that was a real joy to me was when Mossamma brought in her portfolio and talked through her passions and the drive that she has. I really enjoyed that experience. It's been incredibly rewarding to see Mossamma find a path and I think it will work out."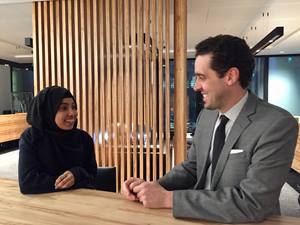 Mossamma:
"When I first met Daniel at the event, I wanted him to be my mentor because his accent was so cool!
Daniel told me to think about different options, which courses and universities I should look at and different activities I should explore around London.
The A levels I'm studying don't correlate to animation. I told Daniel about this and he was able to find out about some foundation courses I could take before doing an actual degree. This was really helpful for me because then I realised that lots of universities do offer foundation courses to people who didn't do art or any art-related subjects in their A levels and give them a boost, so that they can gain the skills they need. This led me to the universities I've applied for.
It was terrifying to visit Lloyd's! It was full of adults, all wearing suits and ties! I stood out in the wrong way. At first I wasn't comfortable, but now I know Daniel.
I liked talking to people at Aon, I found it really awesome. I had no idea what Aon did, or Lloyd's did, but when they explained what they were doing and what kind of work they do, I found it really interesting. I didn't understand why the Manchester United logo was randomly everywhere, but when I found out how it relates, I felt sorry for my friends who didn't know about that!
Daniel was the first person that I could share what I really wanted to do when I grow up and help me with advice with career paths, to choose which one is best for me. Most of my teachers know more about business and law, the traditional routes. I really needed someone who had animation or anything art-related as a background. I thought maybe I could give Lloyd's a go, as maybe a mentor had some links or networks. Fortunately, I met someone like Daniel who had a lot of connections and I was really grateful about that.
Daniel helped a huge amount with my personal statement, telling me how to structure it, what I should put first. I sent it off and now I'm getting interviews and offers from universities.
I just really enjoyed the experience of meeting new people like Daniel. In the beginning, I wasn't really able to express what I wanted to pursue in my career. But after a few mentoring sessions it became clearer and I have stronger grasp of how I can express myself.
Most of my friends are really afraid about what they really want to do and just want to be a doctor because their parents say so. I want other people who take part in these schemes to be really brave about what they want to do and know that they'll get advice and support along the way."