Lloyd's Patriotic Fund: Hear Dylanie's story about finding employment
Lloyd's Patriotic Fund has supported veterans and their families for over two hundred years. Today, we focus on improving mental health and employment prospects for military families.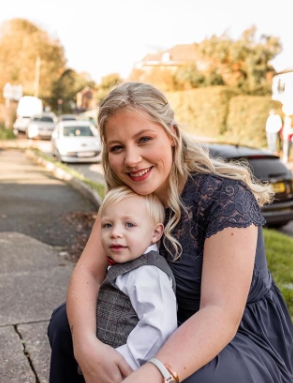 Over the next three years we are funding RFEA The Forces Employment Charity's Families Programme, devised to help the partners of current and former servicemen and women into employment. Many partners face unique challenges getting back into work, and the programme aims to help people like Dylanie to develop strengths, build confidence and provide support for job seekers.
Dylanie shares her experiences of the programme here.
"Being part of a military family can really take its toll on both me and my son. My husband has been away for a large chunk of my son's life and it had started to have a negative effect on us all as a family. I decided to start looking into going back to work for a few different reasons. We were facing financial difficulties as a family, which was taking a toll on my marriage. I had begun to feel incredibly isolated and alone whilst being out of work. Being employed and having structure in my life greatly improves my mental wellbeing and would allow me to regain my confidence and independence. I was excited at the prospect of returning to work and improving our lives.
I had been applying for numerous positions, however not getting so much as an email back. I was left wondering what I could be doing so wrong. When I first applied to join the programme, I had been out of employment for just over 7 months. I felt hopeless and exhausted and grateful for any help that I may be able to receive. I had no self- confidence, I felt so stuck and hopeless after countless rejections, not securing even one interview.
I was scouring the internet looking at anything and everything, I always dreamt of becoming a paramedic but had no idea of how to get there. Until I joined the programme that's all it was, a dream. Since joining, I have been introduced to different avenues in which I can follow in order to achieve my goal. The training and support I've have received has completely exceeded any expectation I may have had.
My Families Employment Advisor, Lee, has gone above and beyond to support me in my journey. Lee made the time and the effort to build a relationship with me and really get to know exactly what it was that I wanted within a position. She was able to make me feel reassured, hopeful and excited about the prospect of finding a job that was right for me. Lee helped me with my CV, interview techniques, training and education opportunities and links to local employers.
I couldn't have ever imagined the level of personal growth that I would go on to achieve once applying for the programme and I am incredibly grateful for all the continuing support. Not only did Lee encourage me to bounce back after every rejection, but she allowed me the time to grieve over a lost opportunity. Through Lee's support I have really started to understand and respect just how many strengths I actually have, and I now feel confident enough to strive for better.
I joined the programme mid-way through the COVID-19 pandemic. Therefore, interview processes had to be adapted and everyone has been extremely understanding when dealing with technical difficulties during an interview. Despite these changes, I have managed to secure myself a position within the healthcare sector, with endless training opportunities.
Being successful with this job position has completely changed my life. It has allowed me to regain some freedom and independence. I'm excited about daily life again and have hope for the future. I now have confidence within myself and my abilities and have proven to myself just how versatile and strong I can really be."
Dylanie is now a health care assistant, supported by RFEA's Families Employment Advisor in South-West England. To find out more about the programme, please watch our video here, and get in touch with a Responsiblebusiness@lloyds.com.