Supporting global recovery and resilience for customers and economies
The insurance industry response to COVID-19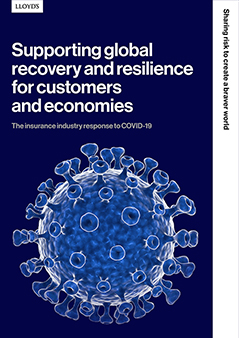 Proposals to protect the global economic recovery
COVID-19 has resulted in a humanitarian crisis on a scale the world was underprepared for. Society has responded collectively, with businesses, charities, communities and governments working together to tackle the health crisis, provide financial support to workers and companies, and bolster economies.
This paper proposes several solutions that could offer customers greater protection against a future wave of the COVID-19 pandemic or against future systemic risks. The paper also outlines additional ways in which Lloyd's and the global insurance industry could respond to protect customers.
Executive summary
A 10-page version of the paper above that summarises the key issues and Lloyd's proposed solutions.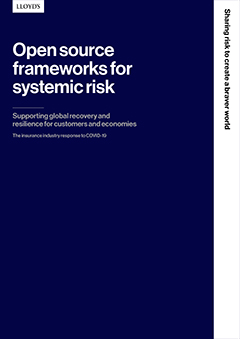 Open source frameworks for systemic risk
This document outlines open source frameworks for three of the potential structures outlined in 'Supporting global recovery and resilience for customers and economies, the paper developed by Lloyd's in response to the COVID-19 crisis and in preparation for future systemic risks.
The proposed open source frameworks provide a blueprint for the insurance industry to help strengthen societal resilience in the face of black swan events.
The following sections break out each chapter of the main report above, Supporting global recovery and resilience for customers and economies