Lloyd's appoints Daniel Revilla as Regional Head for Latin America
Lloyd's, the world's specialist insurance and reinsurance market, today appoints Daniel Revilla as Head of Latin America responsible for enhancing business relationships and trading rights across the region for the benefit of the Lloyd's market.
He will also assume the role of Country Manager for Mexico and will be based in Mexico City.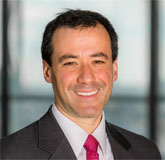 Daniel joined Lloyd's in 2014 as Head of Operations and Strategy for Lloyd's Global Markets division. Prior to that, he worked at Zurich for nine years in M&A and Strategy roles, and his last role was Head of Strategy for the General Insurance segment. He also worked in M&A and Strategy at UBS investment bank, and held financial roles with Telefonica Sistemas and AFP Integra in Peru.
Commenting on his appointment, Daniel Revilla said:
"I am excited to have the opportunity to support Lloyd's development in Latin America, a diverse and dynamic market. As cities expand across the region so does the value of assets requiring protection and we see significant potential for development in specialist insurance and reinsurance.
"Lloyd's can help support the expansion of insurance penetration across Latin America to protect economies at these critical stages of growth."
I'm pleased to announce Daniel Revilla as Lloyd's Head of Latin America. Daniel has played a key role in driving Lloyd's global strategy in recent years and will bring invaluable skills as we look to develop our business across Central and South American markets.

Latin America is an important part of Lloyd's Vision 2025 strategy to increase our support for the world's fastest growing economies. We have a strong established presence in Brazil and in the past year we have expanded our footprint opening offices in Colombia and Mexico. We will continue to build on our business relationships and offer new capacity and specialist products to support the growth of the industry across the region.
Vincent Vandendael, Director of Global Markets
Lloyd's is a leading provider of reinsurance solutions for complex and specialist risks in Latin America and offers specialist cross-border insurance in specific markets.
A recent Lloyd's study with Cambridge University the City Risk Index found that cities in Latin America have US$520bn of GDP at risk from a series of threats. However, insurance penetration rates (3.1%) are significantly lower than the global average (6.1%).
See also