Lloyd's Patriotic Fund announces new partner charities
Lloyd's Patriotic Fund today announced its new Armed Forces partner charities for 2017-18 as Britain's Bravest Manufacturing Co. and Stoll, awarding grants totalling £200,000 to the two charities.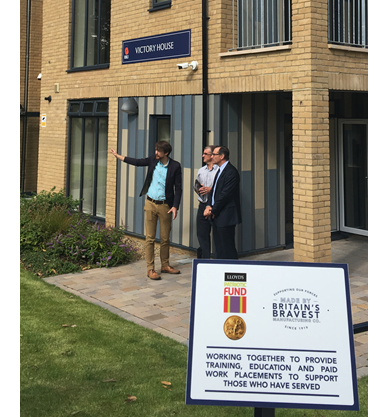 Lloyd's Patriotic Fund is donating £100,000 to Britain's Bravest Manufacturing Co. to supply tailored and personalised employability support and paid work placements for the first residents of a new village of 24 apartments in Aylesford, Kent. Designed and built to meet the urgent need of veterans with injuries and disabilities in housing crisis, this will establish long lasting processes for helping vulnerable veterans for decades to come. The residents will live in the adapted apartments and work for Britain's Bravest Manufacturing Co. in the onsite factory.
Steve Sherry, Chief Executive at BBMC, thanked Lloyd's Patriotic Fund stating "the bursary will make such a difference to the lives of veterans, especially those with disabilities, who don't know how they can break into the labour market; it really is going to change lives".
A grant of £100,000 has been made to Stoll to fund three vital services.  Those services support veterans who struggle with alcohol and drug addiction, those who find it difficult to secure stable housing, often resulting in homelessness or sofa surfing, and those who are unable to cope with independent living but do not qualify for local authority care packages.
Ed Tytherleigh, Stoll's Chief Executive said: "We are hugely grateful for the Lloyd's Patriotic Fund's grant which will allow us to continue to provide many of our vital services. On behalf of Stoll I would like to say how truly thankful we are for this funding."
James Kininmonth, Chairman of Lloyd's Patriotic Fund, said: "We are delighted to be supporting BBMC and Stoll to deliver specialised care and support to the Armed Forces Community.  The demand for programmes that BBMC and Stoll provide for veterans continues to grow, making their work increasingly crucial."
Founded in 1803 to assist the many casualties of the Napoleonic Wars, Lloyd's Patriotic Fund is one of the oldest military charities of its kind and has been providing support to the Armed Forces Community on behalf of the Lloyd's market for over two hundred years.