LOF photo gallery
Pictures showing examples of Lloyd's Open Form (LOF) cases.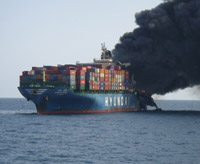 Hyundai Fortune
The Hyundai Fortune, a containership, experienced an explosion and fire on board while on voyage from Asia to Europe. The explosion occurred in the Gulf of Aden on 21 March, 2006, and the salvors were SvitzerWijsmuller Salvage B.V.
APL Panama
Just south of Ensenada, Mexico, the container vessel APL Panama grounded on sand 25 December, 2005, where she remained until her refloating on 10 March, 2006. The spectacle drew huge crowds as Titan Maritime Salvage worked to free the stranded vessel for two and a half months.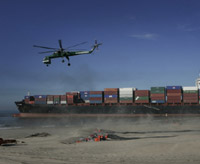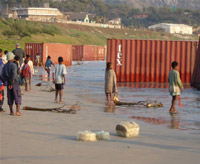 Eugenio
The Eugenio grounded off Madagascar in August, 2006, losing some containers overboard which washed up on the beach. She was refloated and towed to Durban by Smit Salvage BV.
Tasco 1
The Tasco 1 ran aground off Zhuanghai Dao, People's Republic of China on 21 October, 2004. The salvors were Shanghai Salvage.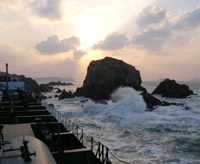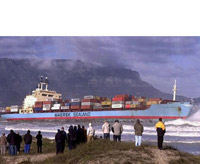 Sea-Land Express
Salvage services were rendered to the Sea-Land Express near Table Mountain, South Africa, by Smit Salvage in combination with Swire Offshore under the terms of LOF 2000, signed in August, 2003.
Jupiter
The geared bulk carrier Jupiter, 24,000 dwt, laden with about 22,000 metric tons of milled wheat, ran aground within Russian territorial waters, off Moshchnyy Islands-a military base. Under the supervision of a Tsavliris Salvage Master, a lightering vessel was engaged to discharge cargo with the help of a crane barge so that the casualty could be refloated and safely delivered at St. Petersburg. Services were rendered by Tsavliris Salvage International under LOF dated 30 April, 2003.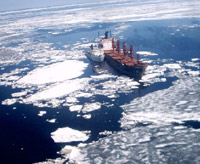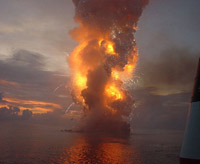 Hanjin Pennsylvania
The container carrier Hanjin Pennsylvania had an explosion in one of its holds causing a fire to break out on 11 November 2002. Lloyd's Open Form 2000, with SCOPIC invoked, was signed with Wijsmuller Salvage BV and Sri Lanka Shipping Co Ltd and thus salvage services were rendered to the vessel. The fire was out by 13 December 2002 and the vessel was towed to Singapore. Amongst the various containerised cargoes were a quantity of fireworks.
Alva Star
The Alva Star grounded on Zakinthos in October 2002. The salvors were Titan Maritime (UK) Ltd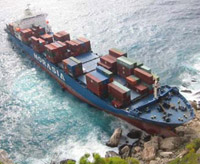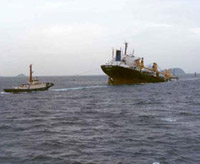 Tasman Pioneer
The Tasman Pioneer suffered an ingress of water into its holds in the Bungo Channel during May, 2001. The salvors were Nippon Salvage Co Ltd.
Janra
The Janra collided with an iron lighthouse about 20 miles off the Aland Islands, Finland, in December, 2000. The salvors were Alfons Hakans.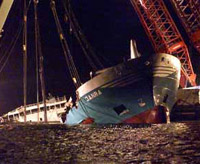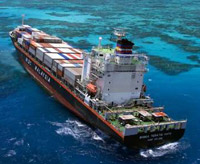 Bunga Teratai Satu
The Bunga Teratai Satu ran aground on Australia's Great Barrier Reef on 2 November, 2000. The vessel was carrying more than 1,300 tonnes of fuel, oil and hazardous chemicals. The salvors were United Salvage Pty Ltd